Our "cowboy" or "toe-pincher" coffin is made from clear yellow pine with the lids, handles, and trim from walnut. The obvious feature of this coffin is the tapered box at both ends with the head section appropriately wider than the foot section.
The corners of the box feature hidden spline construction with exposed walnut splines. The middle joint features inlaid walnut splines which extend almost entirely through the thickness of the sides. All of these splines, corner and inlaid, add strength and craftsmanship to the coffin. This joint also has hidden splines as well. The box also features the same 3/4″ bottom that is screwed and glued to the sides.
The lids consist of a bottom frame to which the upper frame and panel is attached with glue and exposed screws. The miter corners found in the lids feature hidden splines for added strength. The lids are hinged and latched the same as the rest of our caskets.
A bed frame is not included with this coffin due to its "flat top".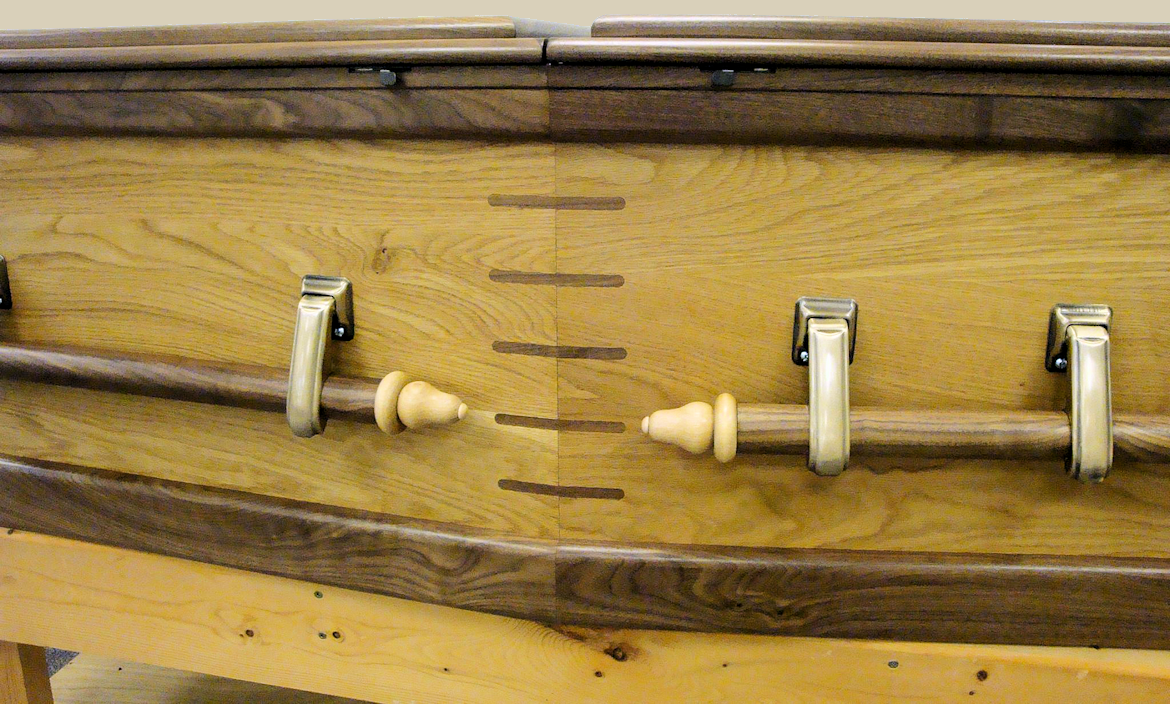 There are two layers of foam: a 2″ thick bottom layer with a 1″ upholstered top layer. The lids and box sides all feature padded micro-suede upholstery. An appropriately tapered upholstered pillow with zipper is also included.
The interior box dimensions are:

Head Section – 17.5 W at the head and tapering to 22.5 W at the middle joint.


The head section is 28.25 inches in length measured down the center of the box.


Foot Section – 22.5 W at the middle joint and tapering to 14.125 at the foot.


The foot section is 49 inches in length measured down the center of the box.


The inside height is 15.5 with no foam in place.
This box will fit a standard sized vault. If you squared off the ends as in our regular caskets the interior dimensions are very similar. This coffin will obviously not fit all people so be sure of the required space.
Other variations of wood combinations are available with prices adjusted accordingly. Prices Subject to Change.
We are able to deliver personally (for an additional cost) within a 150 mile radius of Marion, Kansas. If you are further than that give us a call.
Call for price (316-804-8905)